Caravan security devices guide – hitch locks, wheel clamps and axle wheel locks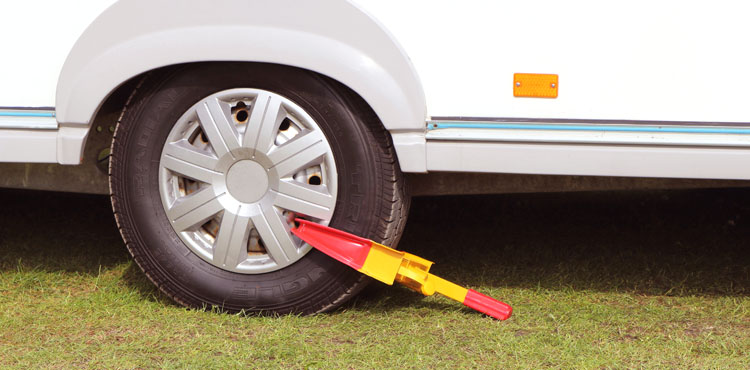 In 2016, a disturbing number of more than 1,400 caravans were stolen in the UK, with caravans aged between two or three years being more likely to be targeted.  In recent years with the rise of the great British 'staycation', the summer months have seen a further increase in the theft of caravans.
Fortunately there are lots of security solutions available on the market: Good quality security devices will make your caravan safe and deter thieves. Security devices range from hitch locks to corner steady locks, from wheel clamps to alarms and trackers.
Here we'll look at mechanical devices in more detail.
Sold Secure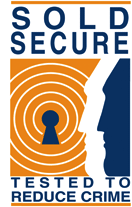 Look out for mechanical devices that carry the Sold Secure badge. Sold Secure is a testing body that subjects locks to extreme examination to make sure they can withstand known thief attack methods for a reasonable length of time.
Hitchlocks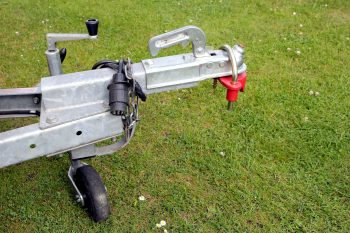 These prevent a potential thief connecting the caravan to another vehicle by covering the tow hitch assembly and fixing bolts.  A hitchlock works as a visible deterrent and stops your caravan from being instantly hitched up and towed away. Prices vary from £30 through to £150: a well-fitting hitchlock is less likely to be tampered with and will be harder to break. Chassis manufacturers AL-KO also sell their own range to fit their own hitches. Other hitchlock makes include Bulldog, Milenco, Purpleline Fullstop, Saracen, SAS and Stronghold.
Wheel clamps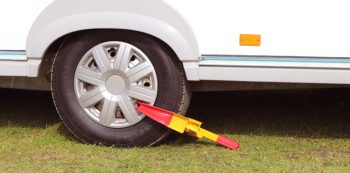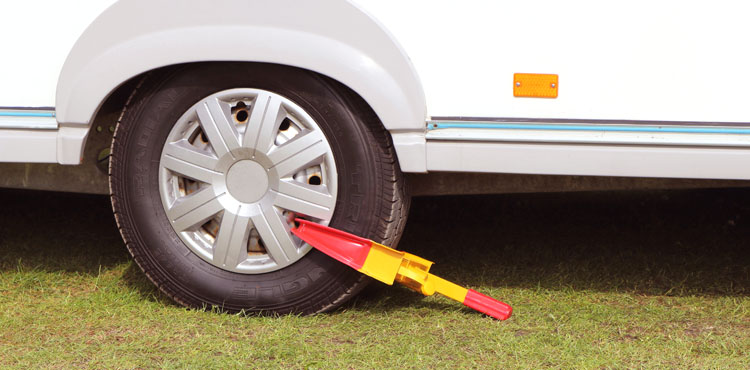 Like hitchlocks, there are many wheel clamps available to buy on the market. The purpose of a wheel clamp is to prevent a tyre from rotating should a thief try to tow your caravan away. Well-known makes include similar names to hitchlocks, including Bulldog, Full Stop, Milenco and SAS.  It's worth noting thieves may deflate tyres to simply drive out of a wheel clamp, so look for a wheel clamp that won't allow this. Purpleline's Nemesis Ultra has a metal rod that sticks through your caravan wheel: When thieves attempt to tow your caravan, the Nemesis' bar is designed to foul on the bottom of your caravan, hence stopping the wheel from further rotation.
Axle wheel locks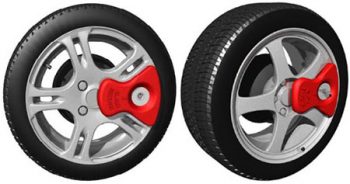 We offer an insurance discount for fitting axle wheel locks. These can only be employed on caravans with alloy wheels. Many new caravans come fitted with a receiver for an axle wheel lock as standard, but not all come supplied with the lock itself, which can be bought separately. The lock goes through the wheel and is attached to the caravan chassis via the receiver, preventing any rotation.
The most common axle wheel-lock is the AL-KO Secure, which is made to fit into receivers found on AL-KO caravan chassis. Some caravans built on a BPW chassis will have a receiver for a BPW Diamond wheel lock or iWD wheel lock. Some third party locks do fit into the AL-KO receivers: These include the Purpleline Full Stop Excalibur, SAS Gridlock, and Bulldog Max, though the latter two are no longer in production.
Corner steadies
You can add extra security to your caravan with caravan leg locks. These simple to use locks are relatively inexpensive at £20 to £50, and lock your corner steadies in the down position to immobilise your caravan. Caravan leg locks are highly visible to attract attention, and act as an additional deterrent to potential thieves.
Insurance discount availability is subject to terms and conditions, cover level and underwriting criteria. Minimum premiums also apply.
Find out how much you can save on caravan insurance today: Call the number at the top of the page or click here for an instant online quote.